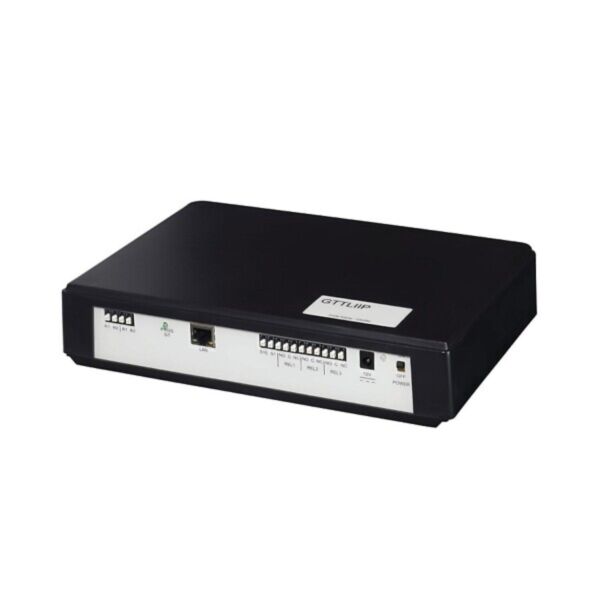 [{"mediaType":"image","videoUrl":null,"isBase":false},{"mediaType":"image","videoUrl":null,"isBase":false},{"mediaType":"image","videoUrl":null,"isBase":true}]
GT-TLI-IP Mobile app network adaptor for the GT series
Product code:
200290 GTTLIIP
This product cannot be purchased online. Please contact sales.

| | |
| --- | --- |
| Net weight (kg) | 0.612 |
| Width (mm) | 240 |
| Height (mm) | 53 |
| Length (Depth) (mm) | 180 |
GT-TLI-IP is a GT series mobile app network adaptor that allows mobile devices (1-3) which use the AiphoneGT mobile app to connect to answer a call from the door and release the door. Requires a functioning GT system with at least one door station. The mobile app adaptor can be mounted on the wall using the mounting holes on the back of the device. Make sure that the installation site is secure.
Includes a 12 VDC 500 mA power supply.
1 input relay and 3 output relays.
Relay contact rated at 24 VDC 1 A.
Supports up to 3 mobile apps.
The AiphoneGT mobile app is iOS and Android compatible.
Program the same way as the video master stations.
Connections: audio and video bus (2x2 pins).
LAN port, CAT5E/6 cable (RJ45).
| | |
| --- | --- |
| Type metadata name here. | 99999 |
| Packaging 1 height (mm) | 65 |
| Packaging 1 width (mm) | 190 |
| Packaging 1 length (depth) (mm) | 363 |
| Height of a pallet | 0.4 |